Welcome to the Office of Fellowships and Awards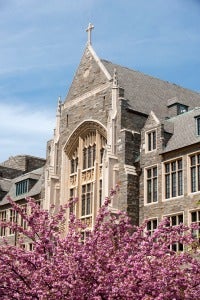 Established in 2003, the Office of Fellowships supports students and alumni in preparing competitive applications for prestigious, merit-based scholarships and fellowships.
In designing a fellowship application, regardless of outcome, we are committed to helping students think deeplyand critically about complex issues and to provide a constructive space in which to examine, and imagine, how their strengths and talents may be developed in service of the greater good.
Connect with the Office of Fellowships & Awards:
​The Office of Fellowships & Awards endorses students for competitions that require official selection by the university. This office does not cover general issues of financing graduate and professional education. Students interested in such information are advised to check the Graduate Guide to Grants on the website of the Graduate School of Harvard University.
Brian Ferguson selected as a Marshall Scholar
Brian (COL '18) will study comparative social policy at Oxford University as a Marshall Scholar!
More
Bianca Uribe Selected as Rangel Fellow
Congratulations to Bianca Uribe (COL '18) on being selected as a 2018 Rangel Fellow!
More
Two Truman Scholars from Georgetown!
Congrats to Amanda Scott (COL '19) and Shakera Vaughan (COL '19) on their selection as 2018 Truman Scholars!
More
Ayal Mandal (COL '18) named Gates Cambridge Scholar
Ayan Mandal (COL '18) has received a Gates Cambridge Scholarship for post-graduate study at the University of Cambridge!
More
Congratulations
Rebecca Kuang (SFS '18), Annee Lyons (COL '18), & Benjamin Johnson (NHS '17) receive Marshall Scholarships!
More
Goldwater News!
Congrats to Patrick Mulcahey (COL '19) for winning the Goldwater Scholarship (far left), and to our two Honorable Mentions, Jane Donnelly (COL '19) and Matthew Park (COL '19)!
More
Three Rangal Fellows from Georgetown!
Sofia Gomez (SFS'18), Kala Deterville COL'18), & Marta Aparicio (COL'14) receive Rangel Fellowships!
Professor John Galvin in the Washington Post
Lean more about Professor Galvin, the Director of the Office of Fellowships, Awards and Research.
More